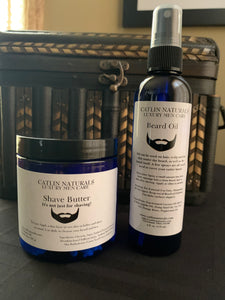 Our Shave Butter is not just for Shaving! It produces a creamy lather with fantastic levels of foam that will cleanse and moisturize as you shave. All natural shave cream can be used daily to shave, cleanse face and beard. It's a mild and moisturizing formulation full of antioxidants!
Our special blend of ingredients helps to soften facial hair while allowing a soothing shave experience free of drying additives or other harsh chemicals. 
For soft, healthy-looking skin - get our Beard Oil & Shave Butter Set today!